Jeongja Han dumps a drawer of pens and lighters into a plastic rubbish bag while her client, a recently widowed woman in her mid-50s who asked not to be named, sits on a stool, watching. The woman's husband died in a car accident a few weeks ago, leaving her to clean out the spacious two-bedroom flat they occupied for 30 years in Tokyo's trendy Ebisu neighbour­hood. They had no children to lay claim to heirlooms, so her directions to Han were simple: "Get rid of everything."
Han is director of Tail Project, a six-year-old company based near Tokyo that specialises in cleaning out and disposing of property accumulated by the deceased, a service that is increasingly in demand as Japan's population ages and shrinks. For Han, today's job is relatively simple. She and her crew of three started at 9am, and the small truck waiting on the street below will be full and gone by 1pm. Time permitting, Han plans to accompany it to a trading company that purchases used belongings, packs them in overseas shipping containers, and exports them to buyers in the Philippines.
Companies such as Tail Project are increasingly neces­sary in a country where each year more people die with no one to mourn them. In 2017, there were 946,060 births and 1.3 million deaths in Japan, marking a seventh consecutive year of population decline. By some estimates, Japan's population could shrink by a third over the next 50 years, and there's little chance the trend will reverse.
The roots of the problem reach back to the country's post-second-world-war boom, which produced levels of consumption unprece­dented in historically conservative Japan. But that lifestyle burst with Japan's asset bubble in the early 1990s. The resulting economic insecurity is leading young Japanese people to put off marriage and children – or skip them altogether. What's left is one of the world's oldest societies, millions of junk-filled homes and a dearth of heirs.
According to the Association of Cleanout Professionals, a Japanese trade group, its 8,000 member companies collectively bring in revenue of US$4.5 billion a year. Over the next five to 10 years, the group expects its membership will double.
For now, Han is busy. Through a translator, she describes cleaning out a home the day before in Fukushima, 300km to the north; after the Tokyo job, she will be bound for Yokohama, 30km away, to meet another client. Now she dips into the junk drawer. Unopened boxes of staples go in the resale carton, while pens get tossed into the nearby rubbish bag. She picks up a small brown cylinder. It's a personal seal or chop, used like a signature in Japan. She turns to the widow. "Do you want this?"
The widow looks up. She has a long oval face, her eyes surrounded by dark circles. During the course of the morn­ing, she has swung from quietly contemplative to chatty, even funny, filled with stories of her suddenly disappeared married life. But with Han's question, she settles into what appears to be her default state: exhaustion. "No, thank you," she says with a shake of the head.
It lands in the rubbish bag.
Most homes, whether in Japan or elsewhere, contain little of value beyond the senti­ments of the person who bought them. Kitchen utensils, no matter how many happy meals they were a part of, are typically too beat up to serve anything but the scrap-metal industry. Bathroom items, from toothbrushes to soap, obviously cannot be reused. Old CDs, DVDs, books and media players are generally worth­less unless in perfect condition or of interest to collectors. Furniture, unless it is an antique of value, has a diminishing market, especially if it is made by Ikea.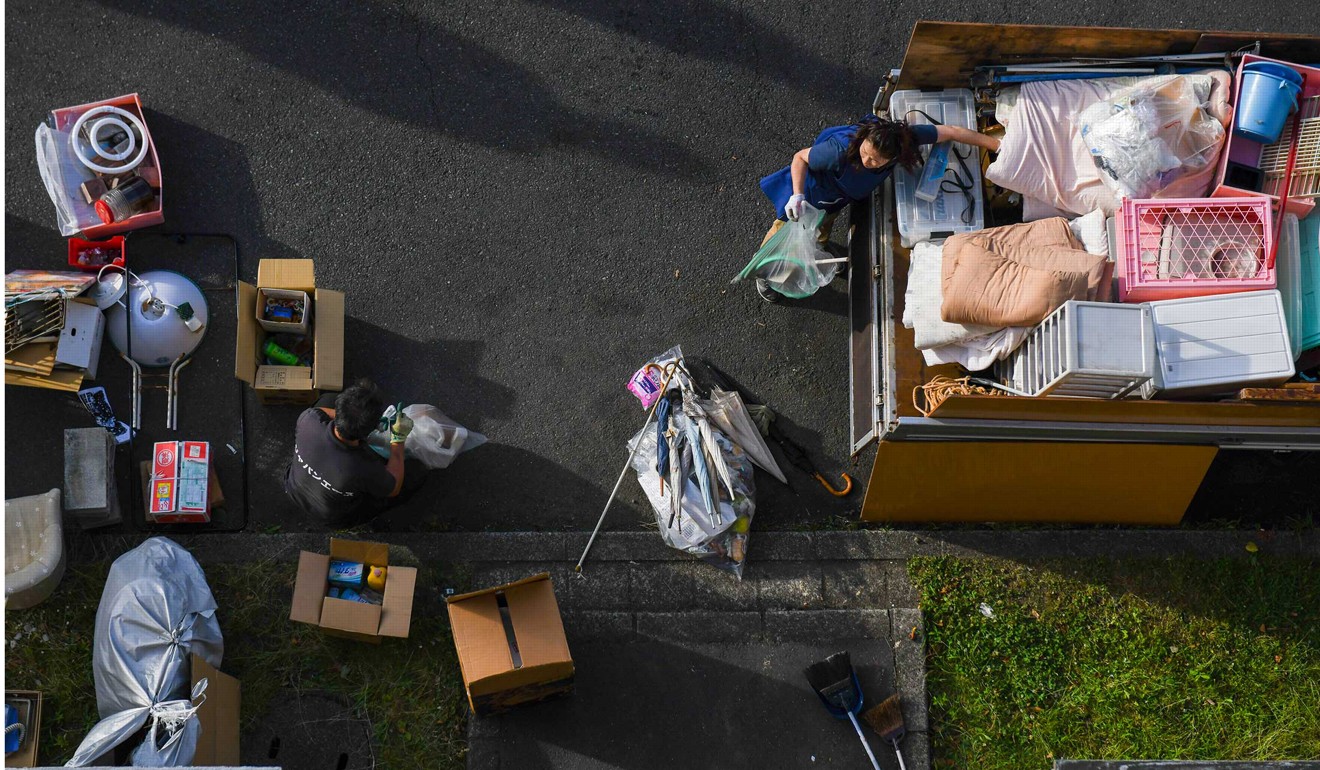 Han is kneeling in the widow's kitchen, surrounded by cardboard boxes filled with saleable goods such as dishes, lacquerware and half-full bottles of scotch and sake. She is 50 years old, has a round, youthful face framed by a short bob of hair, and wears a tan apron with two large pockets to carry pens, markers and tape. Her family is ethnically Korean, but Han has lived in Japan all her life.
She used to work as cabin crew for Japan Airlines, and it shows: she proceeds through the widow's flat with the ruthless efficiency of a flight attendant collecting meal trays. But she also exudes a sisterly warmth, offering the widow intermittent advice on dealing with grief. Personability is an essential quality for a clean-out professional. Competition is stiff, and jobs are often won on how much empa­thy the would-be cleaner is able to project. When she is not cleaning out, or selling the property she just removed, Han travels around Japan bidding for jobs. It's next to impossi­ble to pin her down for even a meal.
As Han starts wrapping the widow's glassware in news­paper, she explains that she realised there was a need for this kind of business after her mother died. She was flying at the time and felt she could not count on the rest of her family to help settle their mother's affairs. Han recalls thinking that she would have liked to hire someone who could serve as help during the clean-out, a paid familial stand-in.
A few years later, a friend of Han's mentioned that he was in search of a new business after the March 2011 earthquake, tsunami and subsequent recession. The foun­der of Active-Techno, a manufacturer of sheet-metal painting equipment part-owned by Toyota, he told Han he had recently read an article about the clean-out industry. "He said, 'Maybe I should do this business,'" Han recalls. "And I said, 'No, no, no. I'll do it.'"
Tail Project opened as a division of Active-Techno in 2012. The privately held company will not disclose its financial results, but Han confirms that her three employees account for a third of Active-Techno's total staff.
The barriers to entering the clean-out industry are few. Han obtained a second-hand goods dealer's licence. For jobs that require heavier cleaning, she received training and certification similar to that of a coroner. Han steps away from the glassware, takes out her phone and scrolls through photos of clean-outs. "See," she says, as she stops on a photo of a bed. On the mattress is a dark shadow left by a decomposing body. "I don't remove the body," she says. "But I had to receive the training to clean what's left." She keeps scrolling, through images of hair still stuck to tatami mats and a pile of garbage upon which a body was found.
Lonely deaths account for about 30 per cent of the clean-out market, according to Hideto Kone, vice-president of the Association of Cleanout Professionals. "Ghost houses," abandoned by aged owners and left to rot, account for 20 per cent. The remaining half of clean-out jobs involve relatives; of these, some are "happy" occasions, Han says, where the family gathers to tell stories about the deceased. Then there are the sad ones. "The family comes just for the things of value," she says. "Leave everything else behind."
From 2007 to 2016, more than 100,000 Japanese companies were granted licences to deal in used goods. People pay Han and other clean-out companies between US$2,200 and US$3,200 for a one-day job, but the costs can reach into the tens of thousands depending on the size of the task and the length of time it requires.
Japan charges high fees for trash disposal, which has contributed to a strong resale market for old goods. In 2016, Japan's second­-hand industry earned US$16 billion, up 7.4 per cent over 2015 and 30 per cent over 2012, amounting to about 4.1 per cent of Japan's overall retail market. Used clothing accounted for 10.5 per cent of the retail apparel market in 2016, while second-hand branded luxury items such as Louis Vuitton handbags and Rolex watches made up about 13.5 per cent of all retail sales.
The windfall has inspired a burst of innovation in thrift stores and pawnshops, online and off. So-called recycle shops are increasingly common, especially in affluent neighbourhoods – EcoRing, among the most successful of these businesses, accepts anything brought to one of its 78 outlets in Japan. Many of Japan's recycle shops do clean-out jobs on the side as a means of obtaining inventory, and even Buddhist monks are getting into the business.
"Families go to the monks and temples after the death for prayers," explains Rina Hamada, editor of The Re-Use Business Journal. "And then the monks go to the home and clean it out." Some clean-out companies are working directly with shrines, where they will burn certain belongings as an offering to "assuage guilt", Hamada says.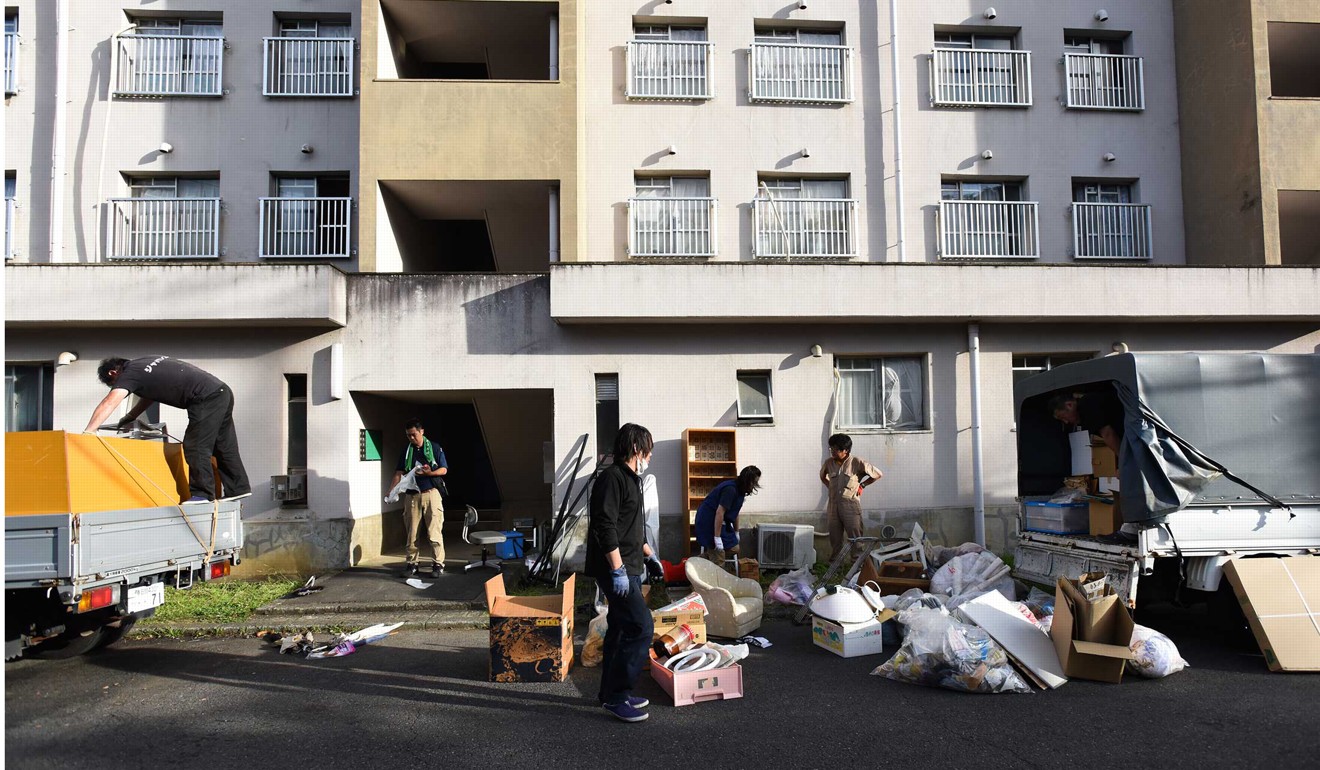 Online, Yahoo! Auctions remains the country's most popular outlet for consumer-to-consumer sales, but there are a number of new mobile-oriented businesses close on its heels. A start-up called Cash, for instance, pays users instantly for upmarket items based on a photo submitted through an app. Shares in Mercari, an app-based flea market, rose 76 per cent after its initial public offering in June.
Over coffee, Hamada offers her version of what's behind Japan's burst of second-hand enthusiasm: "Mottainai," she says, invoking a difficult-to-translate Japanese word that expresses regret about waste, as well as a desire to conserve. "Before the 1960s, Japanese had this feeling. Even during the Edo period [a time of econo­mic growth that lasted from 1603 until 1868] a kimono would be reused for other things."
Hamada thinks the mindset changed over the post-war economic boom, a period during which the birth rate also boomed.
"If you want economic growth, you must buy," she says. "And Japanese forgot who they were and just bought, bought, bought."
In her view, that ethos has faded over the past two decades as economic stagnation has taken a toll. But that is not the only factor. Hamada also cites the aftermath of the 2011 earthquake and tsunami as an important turning point in Japan's relationship with its stuff.
"After that, we remember who we are," she explains. "People start to send their things to Tohoku [the site of the disaster] because the people in Tohoku have nothing. People think, 'Maybe we should reuse things.'"
Even if something is made in China, if it's used in Japan, people elsewhere will assume it's good
On the street below the widow's flat, Han's small truck has nearly filled up. "We maybe should've brought a second one," she says. As her employees unload and reload boxes of household goods and pieces of furniture, trying to make them fit, she talks about where these items are likely to end up. While Japan's domestic resale market has grown robust, there is an even larger global market for Japanese goods.
For example, Han points to some clay plant pots lined up near a neighbouring building. "We collect these and sell them 10 for 100 yen [HK$7]," mostly to dealers in Africa, she says. A nearby bench could also go to Africa, but most goods she collects are bound for the Philippines. "They have a deep love for Japanese products," she says.
Japan's reputation for quality manufacturing has long been marketable – and that reputation rubs off on goods used in Japan. "Even if something is made in China, if it's used in Japan, people elsewhere will assume it's good," Hamada says. Nowhere is that more the case than in Southeast Asia, where geographic and cultural proximity make Japanese products highly sought after but lower per capita income leaves new goods largely out of reach.
Over the past two decades, Japan's second-hand goods companies have fanned out in the region, opening at least 62 outlets in eight countries. Hip used-clothing chain Don Don Down on Wednesday, with 47 outlets in Japan, has 10 in the Cambodian capital of Phnom Penh. Another retailer, Bookoff, opened three all-Japanese used-goods megastores in the Kuala Lumpur area, in Malaysia, in the past two years.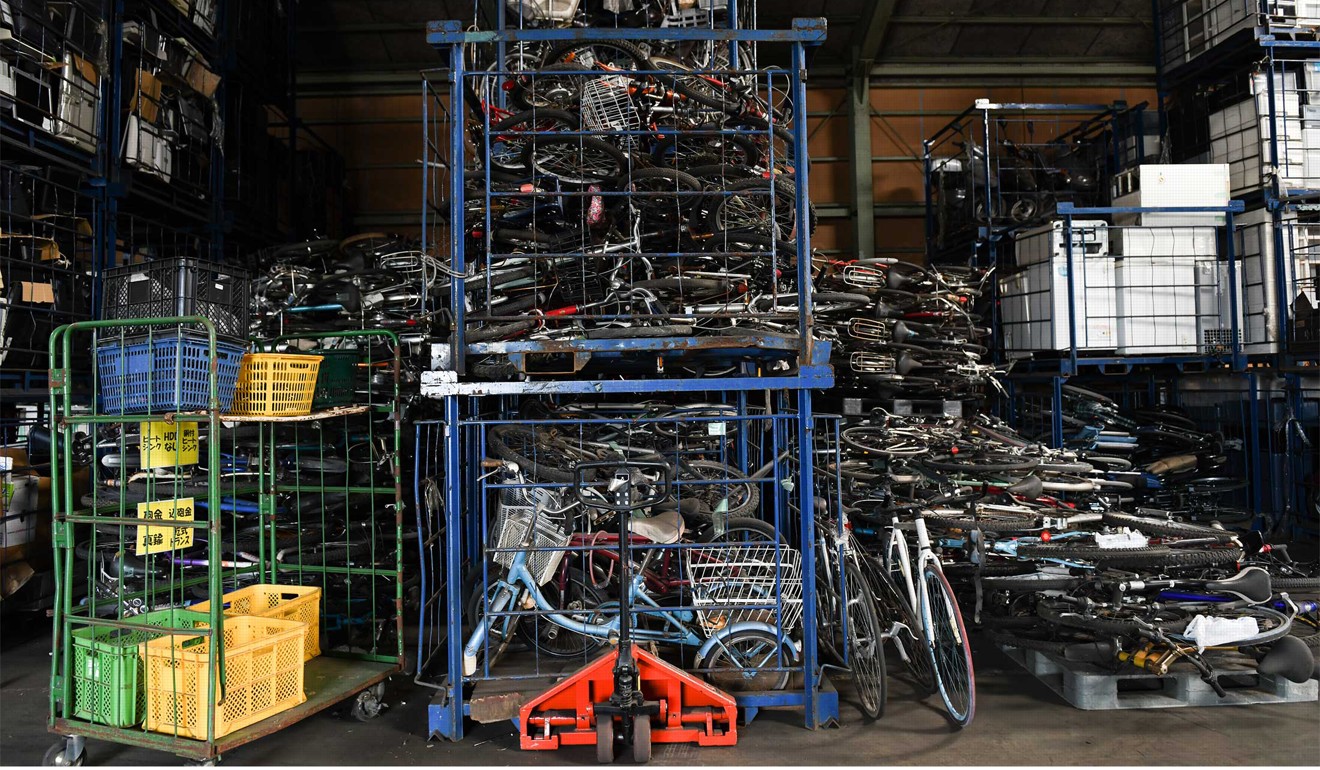 Japan's unbranded used-goods wholesalers send thousands of full shipping containers into the region annually, feeding the small-scale traders who dominate furniture, clothing and homeware sales. Japan's largest exporter of second-hand goods, Hamaya, counts Southeast Asia as the leading buyer of the 2,465 shipping containers it sent overseas in 2017. Among the many items in those containers, which typically carry three to five tonnes of used goods each, were bicycles, hand and power tools (used chainsaws are popular in forest-rich Cambodia), audio-visual equipment and home goods ranging from refriger­ators to blenders.
But it is not necessary to have thousands of containers of stuff to be an exporter. About 30km outside Tokyo, in Yamato City, 67-year-old Tetsuaki Muraoka runs his busi­ness from a roadside structure that looks like a former petrol station. Exposed support beams still hang over where the pumps would have been, and a showroom occupies the space that might have held a shop and cashier. A forklift drives across the room carrying a pallet with a small refrig­erator, a high chair and a Panasonic compact convec­tion oven. It stops at an open, 40-foot shipping container of appliances and furniture. In the morning, the full container will ship out to the Philippines.
Han pulls into Muraoka's car park in a silver saloon. She is one of Muraoka's best clients, and they greet each other warmly. At the door to the showroom, Han pauses at a rattan chair she recently sold him. When I ask how much he paid her for it, she laughs – "Almost nothing, close to free." I check the price tag: 700 yen. Muraoka looks back with a smile, a reminder that anything is better than paying to have it thrown into an incinerator.
Muraoka is wiry and youthful, and that is a good thing. For 20 years, he ran a computer-repair business, but over the past half-decade, as mobile phones displaced PCs, he found himself in search of a new career. He is even doing some clean-outs himself.
To Han, Muraoka is a familiar type. Among the most eager participants in the occasional seminars she teaches for aspiring clean-out professionals are senior citizens, "because they think it's a good opportunity and it's easy," she says. She recently turned down a 70-year-old man who asked to work for her, and a 60-year-old woman who wanted to study under her. She felt neither would be able to handle the physical demands. Soon, the gatekeeping might become more rigorous. The Association of Cleanout Professionals is in discussions with the Japanese govern­ment to create an official clean-out certification for com­panies and individuals.
As Han and Muraoka chat, workers seal up the shipping container outside. "The Philippine market won't last forever," Han says. "As the wealth level goes up, they will want new things. Then what?"
It's happened before: Thailand was once Japan's fav­oured destination for its used stuff, but the market there has faded as the country has got wealthier. "Cambodia, probably," she surmises.
Hamada often mulls the same problem. "Whenever there's a gap between wealth and poverty, there will be a second-hand industry," she says. "It's not just about mottainai."
She, too, sees the long-term challenge for Japan's second-hand industry posed by rising incomes in develop­ing countries. More seriously, she worries that low-cost Chinese-manufactured goods are starting to offer real competition to second-hand goods in developing markets. In the long run, both trends threaten to boost the number of loads Han is forced to dump into Japan's hi-tech rubbish incinerators. As the country's population continues to age and decline, her business volume will only rise.
Han is not too worried. The fees she gets for clean-outs make for a good business, even if the underlying reason for it is best not thought about.
"I don't want to say I get used to it," she says. "But I get used to it." Bloomberg Businessweek